Custom Bags
Choose from our Standard Gift Bag options, or customize your own. We can work with you to design hospitality bags to meet your budget. Call us to discuss your specific requests. Below are a few ideas to get you started.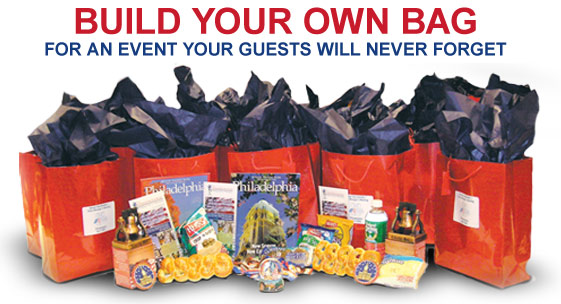 Premium Options, Customization & Personalization
Tickets - Top tourist attractions such as
The Constitutional Guided Walking Tour and the Philadelphia Museum of Art
Custom materials for your meeting or special event - Meeting agendas, documents, sponsor goodies, etc.
Premium packaging - Souvenir canvas tote bags or baskets and special patriotic packaging
T-shirts - Philadelphia and/or custom imprinted wearables for your special event
Souvenirs - Liberty Bells, snow globes, mugs, magnets, replica historic documents: U.S. Constitution, The Declaration of Independence, etc. To see a sampling of our Custom and Souvenir Add-On Options, click here.
Magazines - Philadelphia Magazine or Philadelphia Style
Personalization - Welcome cards, labels, and directions
Miscellaneous event services - Scavenger hunts, VIP tours, step-on guides and event planning, as well as seasonal and theme parties

Delivery
Hand delivery right to your hotel or event location is available.
Within Center City Philadelphia* - $0.75-1.50 per bag, depending on quantity ordered
Outside Center City Philadelphia - Pricing depends on location. Call 215.525.1787 for details.
*Delivery within Center City Philadelphia covers the area bounded by: Columbus Boulevard on the East, 38th Street on the West, Spring Garden Street on the North and South Street on the South. Outside Center City Philadelphia pricing depends on location.
Pricing, packaging and bag contents are subject to change without notice.
© 2006 — Liberty Loot. All Rights Reserved. All other products, services and brands are trademarks, registered trademarks or service marks of their respective owners.