Standard Bags
Liberty Loot Offers 3 Standard Gift Bags
Choose Your Gift Bag Below
Or Customize Your Own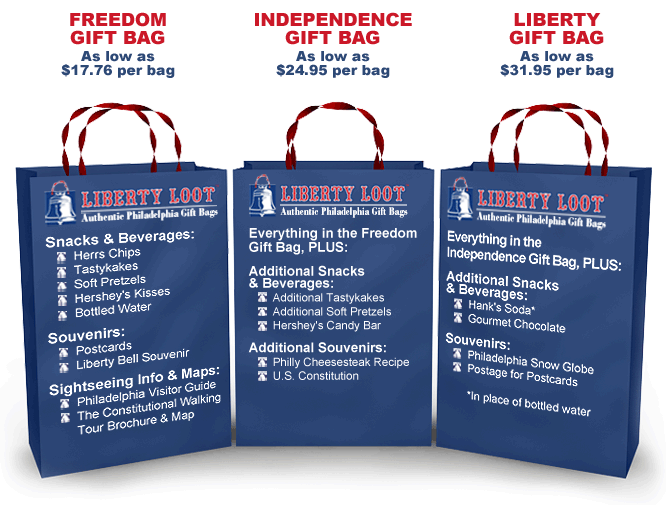 Pricing
25-50
Bags
51-100
Bags
100-250
Bags
251+
Bags
Freedom Gift Bag
$22.95
$19.95
$17.76
Call 215.525.1787
for pricing
Independence Gift Bag
$29.95
$26.95
$24.95
Call 215.525.1787
for pricing
Liberty Gift Bag
$36.95
$33.95
$31.95
Call 215.525.1787
for pricing
Delivery within Center City Philadelphia
$1.50 per bag*
$1.00 per bag*
$0.75 per bag*
Call 215.525.1787
for pricing
You can also add additional souvenirs to our Standard Gift Bag Options. To see a sampling of our Souvenir Add-On Options, click here.
Delivery
Hand delivery right to your hotel or event location is available.
*Delivery within Center City Philadelphia covers the area bounded by: Columbus Boulevard on the East, 38th Street on the West, Spring Garden Street on the North and South Street on the South. For delivery outside Center City Philadelphia, pricing depends on location and distance. Call 215.525.1787 for details.
Pricing, packaging and bag contents are subject to change without notice.
© 2006 — Liberty Loot. All Rights Reserved. All other products, services and brands are trademarks, registered trademarks or service marks of their respective owners.